Since 1972, All-Pumps has provided customers with market-leading products, maintenance and support. We strive to always be on time, price competitively and, most importantly, deliver on our promises.
Our proud legacy has been forged by innovation and serving the needs of our clients first and foremost. Simply, we listen, learn and act. That's why we're the first preference for pump suppliers in Australia.
Our team provide end-to-end services for all types of industrial pumps, including custom-built fluid handling solutions. We customise pumps to the exact requirements of customers with a range of robust, reliable pumps and environmentally approved pollution control systems. But most importantly — we're here when you're under the pump and need us most.
You'll enjoy the All-Pumps experience. We're certain.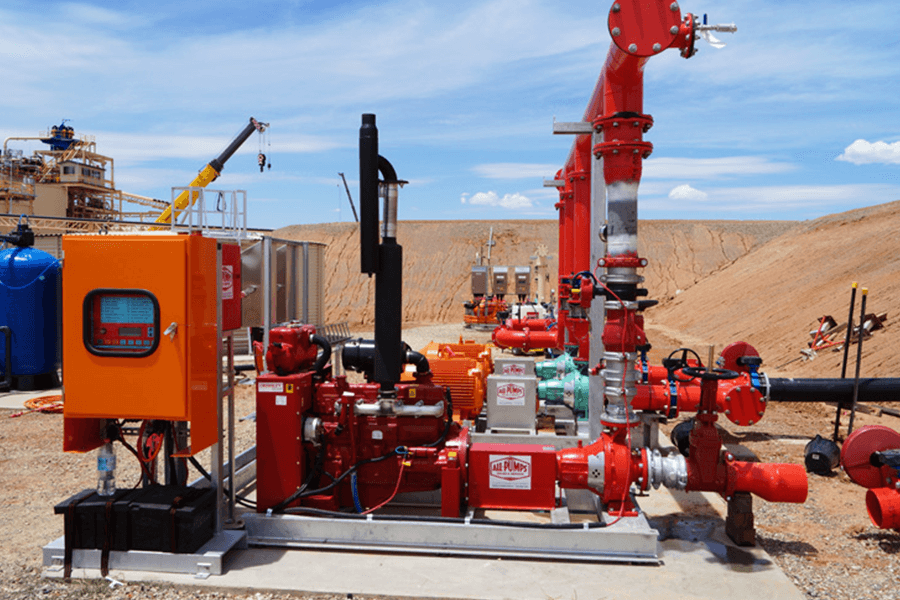 Experience Speed
The spirit of urgency has deep roots at All-Pumps. We understand the frustration caused by a pump or system failure. To solve that, we always aim to solve problems quickly and correctly. We invest in large inventories, and we train our employees to respond with a sense of urgency, requiring our members to be innovative, ambitious, and efficient. We pride ourselves on getting production lines up and running in the fastest time possible.
Experience More Certainty
We have always been confident with the products and services we offer. Over the last 50 years, we developed relationships with the world's leading pump manufacturers that's been helping us provide businesses with market-leading products. Investing in expanding our partnership and in the continuous training of our members, we are certain we can provide the best possible solution for your application.
Customer Experience
We value our customers, large or small. Our continuous improvement culture, driven by structured meetings and input from all staff means our standards of quality are kept high. Reliability is often used in our industry but it all boils down to a compilation of small parts, we capitalise on our 50 years of experience to make sure we are the strong link in the chain. For the next 50 years, we will continue to prioritise our customers' needs and improve using feedback, from staff and clients, to achieve the ultimate customer experience.
1972
All-Pumps opened its very first office in Silverwater.
1975
All-Pumps grew into a specialist supplier of pumps to industry.
We looked after large manufacturing plants in Sydney with Reckitt and Coleman, Firestone Rubber, and Australian Chemical Industriesas some of our biggest customers.
1977
All-Pumps, becoming an in-demand specialist
We moved to larger premises in Rydalmere to keep up with stocking products for customer demands.
1988
All-Pumps moved its office to Parramatta to meet the demands of our growing customer base.
Here, a larger facility for pump rebuilds and testing was opened that helped us with servicing clients better.
1997
Cameron Hales joined the company to build on the values of great customer experiences that started the company's strong growth.
2000
James Hales started in the business bringing a high level of engineering expertise.
2013
In July, after 42 years, All-Pumps moved back to Silverwater, opening its head office and workshop facility.
2016
With the aim to reach more businesses that need our expertise, All-Pumps opened its Queensland branch office.
2022
This June, we celebrate our 50th anniversary and launch our refreshed brand.
We are a family-owned company still focusing our specialist supply to the manufacturing industry. Our strategies are time-tested, and we take pride in our good track record of satisfying our clients with cost-effective and reliable solutions.
Our Vision
To be an indispensable supplier to Australia's manufacturing plants for pumps. We strive to be the supplier for pumps that the factory simply cannot do without.
Our Mission
To work relentlessly towards coming closer to our vision statement by focusing on customer-driven product and service innovation. We believe that this will result in a unique blend of high quality, simply reliable, and yet affordable solutions – with customer experience at the heart.
Core Values
Experience
We are backed by 50 years of experience in the sales and servicing of all kinds of industrial pumps.
Refreshing Customer Care
We express our care to our customers by always being on time, giving the best products at the best price, and ensuring that we deliver our promises.
Take Ownership
Our members have a sense of accountability that pushes them to perform their best consistently. We strive to innovate as though we were solving the issue for our own factory.
Make the complex Simple
We make sure we do our job right the first time. We make complex processes easier through cutting-edge technologies and streamlined services.
Work Safely
We have factory-trained technicians and rigorously tested products to ensure safe operation in the industries we serve. Safe practices ensure reliability. We act responsibly.
We are a Family not Employees
A family-owned business with important values built into our DNA. Our firm bond and tightly-held beliefs create a positive culture, foster longevity, and stabilise the structure and dynamics of the family.
all pumps
50 YEARS OF MAKING
BIG THINGS HAPPEN
With 50 years of experience in sales and service of all types of industrial pumps, All-Pumps have excelled and will continue to be a reliable partner that industries can depend on even in the next 50 years. That's how we became the leader and why we continue to be a preferred supplier for pumps in Australia.